Deciphering the Past: Transcription Hour
Event was held on February 25, 2021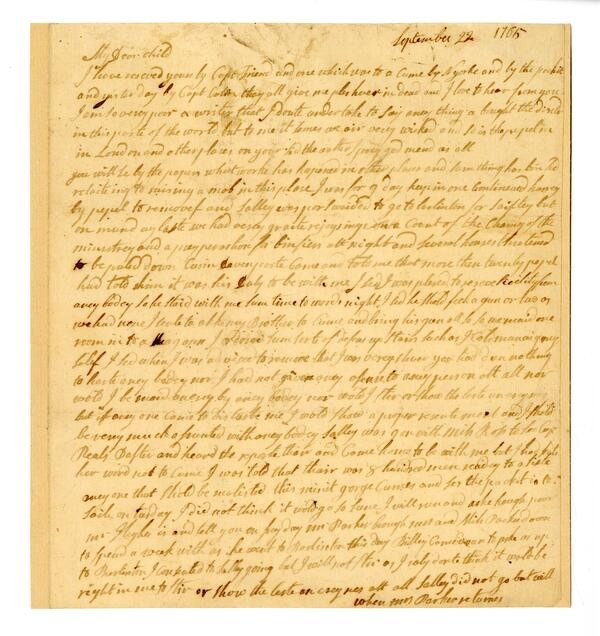 Thursday, February 25 from 1:00 p.m.-2:00 p.m.
Have you ever been interested in transcription and the mysteries it can unlock?
Join the American Philosophical Society (APS) and the Science History Institute for this three-part series on deciphering historical documents throughout time. Puzzle through mysterious writing and try your hand at decrypting colloquialisms and unfamiliar spellings with APS fellow Julie Fisher. In each session we'll be working with a specially selected manuscript straight from our vaults. Learn tips you can use when transcribing historical documents, practice new skills, and discover your inner detective.
For our February session, join APS's conservator Anisha Gupta as she reveals the science behind iron-gall ink before transcribing a letter from Deborah Franklin in celebration of her legacy as a founding mother.

About the Speakers
Anisha Gupta is the Assistant Conservator for Archival Materials at the American Philosophical Society. She holds an MS from the Winterthur/University of Delaware Program in Art Conservation. She completed her BS in chemistry and art history at the University of Illinois Urbana–Champaign. Prior to joining the APS, Anisha worked at the Fine Arts Museums of San Francisco, Cleveland Museum of Art, Tate, and the University of Illinois Library.
Julie A. Fisher is a public historian with a PhD in history from the University of Delaware. Currently a fellow at the Newberry Library, before that she was a fellow with the American Philosophical Society, a consulting editor with the Yale Indian Papers Project (now the Native Northeast Portal), and the primary investigator for the National Park Service at the Roger Williams National Memorial. She began transcribing and learning paleography skills for her first book, Ninigret, Sachem of the Niantics and Narragansetts: Diplomacy, War, and the Balance of Power in Seventeenth-Century New England and Indian Country. She has been transcribing ever since.
This event will take place virtually on Zoom.