David Center Lecture: "Prisoners of Congress: Philadelphia's Quakers in Exile, 1777-1778" with Norman E. 'Ned' Donoghue II
Washington Crossing Historic Park Visitor Center
1112 River Road
Washington Crossing, PA 18977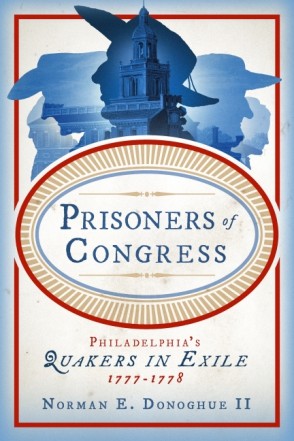 In 1777, Congress labeled Quakers who would not take up arms in support of the War of Independence as "the most Dangerous Enemies America knows" and ordered Pennsylvania and Delaware to apprehend them. In response, Keystone State officials sent twenty men—seventeen of whom were Quakers—into exile, banishing them to Virginia, where they were held for a year.
Prisoners of Congress: Philadelphia's Quakers in Exile, 1777-1778 (Penn State University Press, 2023) reconstructs this moment in American history through the experiences of four families: the Drinkers, the Fishers, the Pembertons, and the Gilpins. Identifying them as the new nation's first political prisoners, Norman E. Donoghue II relates how the Quakers, once the preeminent power in Pennsylvania and an integral constituency of the colonies and early republic, came to be reviled by patriots who saw refusal to fight the English as borderline sedition.
Surprising, vital, and vividly told, this narrative of political and literal warfare waged by the United States against a pacifist religious group during the Revolutionary War era sheds new light on an essential aspect of American history. It will appeal to anyone interested in learning more about the nation's founding.
Dr. Patrick Spero, the former Librarian & Director of the American Philosophical Society's Library & Museum, has written of Ned's book that it "brings to life one of the most important and compelling events of the American Revolution in Philadelphia" and that it is "an untold story of national significance." 
The talk will be held in-person at Washington Crossing Historic Park. Books will be available for purchase and a book signing with the author will be held after the talk.
The event is free to attend but registration is required. Please register here to attend in-person.
This event is hosted by the David Center for the American Revolution at the American Philosophical Society. This event will take place on Wednesday, September 27, 2023 at 7:00 p.m. ET at the Visitor Center in Washington Crossing. 
Can't make it? Join us instead at the APS on Wednesday, September 20 at 12:00 p.m. for Lunch at the Library! Details here.
---
Norman E. "Ned" Donoghue II is an independent scholar educated at Williams College and Duke Law School. He has had a varied career. He practiced law for 34 years at an international firm in Philadelphia, then joined the staff of The Philadelphia Orchestra as a fundraiser during their endowment campaign. As a volunteer professional, he served as a board member and officer of both We The People 200, Inc., the nonprofit which organized in 1987 the national celebration in Philadelphia of the Bicentennial of the U.S. Constitution and also the Princess Grace Foundation-USA, a leading sustainer of emerging talent in the performing arts. He served the latter for over 40 years until his retirement last month. His research is primarily in the field of pacifism in Pennsylvania during the American Revolution.