David Center for the American Revolution Seminar: "'All Nature's Face, is dug, pitch'd up & tore': The Loyalist Environmental Imagination from Occupied New York City" with Blake McGready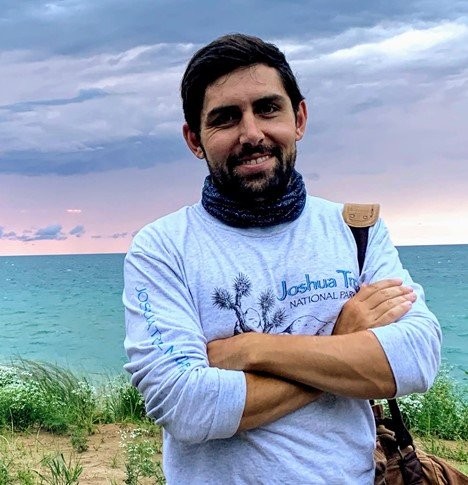 The fourth 2023-2024 David Center for the American Revolution Seminar will take place December 6, 2023 at 3:00 p.m. ET on Zoom.
The speaker will be Blake McGready. Blake is a PhD Candidate at the Graduate Center, CUNY where he studies the environmental legacy of the American Revolution. His dissertation, "Making Nature's Nation: The Revolutionary War and Environmental Interdependence in New York, 1775-1783," examines how the environment and environmental perceptions shaped the American Revolution. Blake has served as a co-chair of the CUNY Early American Republic Seminar (EARS). His previous work has been published in Pennsylvania History and in the Journal of the American Revolution Annual Volume series. He has previously worked at The Gotham Center for New York City and for the National Park Service.
Blake will be presenting his paper titled "'All Nature's Face, is dug, pitch'd up & tore': The Loyalist Environmental Imagination from Occupied New York City" A description of the paper is below. The paper will be pre-circulated to registered participants in advance of the seminar meeting. 
To attend the seminar and to receive a copy of the paper, please register via Zoom. 
The David Center for the American Revolution Seminar serves as a forum for works-in-progress that explore topics in the era of the American Revolution (1750-1820). Questions about the series may be directed to Adrianna Link, Head of Scholarly Programs, at [email protected]. 
NOTE: Seminars are designed as spaces for sharing ideas and works still in-progress. For this reason, this event will not be recorded.
---
Following the Seven Years' War, colonial New Yorkers celebrated Britain's imperial glory with a newfound delight in their environmental conquests and transformations. Statesmen boasted about the colony's natural resource output, writers and artists used their pens and pallets to capture sublime scenery, and ordinary farmers prided themselves as part of a divinely authored agrarian tradition that had cultivated North America's "wilderness." The American Revolution, however, disrupted those environmental relationships and this improvement narrative. 
As they crammed into the British headquarters in Manhattan, thousands of loyalist refugees strained the island's ecological capacity and exhausted its urban and rural landscapes. According to these loyalists, the land had already been devastated by an unnecessary war that tore the empire's environmental bounties asunder. Rebel soldiers, they argued, had shattered pastoral tranquility by confiscating crops, occupying farms, and making war in pastures. "The Rebels fly…And as they flee, they scour & spoil the Plain," one Loyalist poet wrote of Continental soldiers in Brooklyn.1 Artists emphasized the ways warfare disrupted the environment by depicting battles raging through farmlands or illustrating the devastation of upper Manhattan's forest canopy. Loyalists also fumed at Crown forces that cut orchards and woodlots, maimed and seized livestock, and polluted watercourses with rubbish and waste. "They were expert at plunder," the loyalist judge Thomas Jones wrote of the occupying army, "…nothing escaped their hands, and in the course of six weeks not a lamb, nor a calf, a duck, not a goose, a turkey, a pig, nor a dunghill fowl, was to be seen in the town; nor a potato, a turnip, nor a cabbage, in the fields." 2 The dramatic changes to greater New York City's environs led loyalists to reject the rebel cause but also weakened their confidence in imperial power.
While historians have argued that the experience of occupation cost the British wartime support among loyal and neutral colonists, scholars have yet to examine how loyalists' environmental relationships and assumptions shaped their responses to the Revolution. In their correspondence, treatises, essays, sketchbooks, petitions, and more, loyalists deputized the natural, nonhuman world to support their positions on the raging civil war. Some argued that Crown forces must crush the rebellion by targeting rebel agriculture, confiscating fuel, food, and forage from noncombatants, and enforcing martial control of urban resource management. Other loyalists argued that such harsh measures alienated civilians whose livelihoods depended on the land, needlessly impaired the city's natural resource networks as well as its aesthetic virtues, and revealed Britain's naiveté regarding the colonial environment. These different approaches to the environmental impositions of war generated divisions among Britain's supporters. Transformations to New York City's environment and intensifying contempt for North American nature splintered loyalists' visions of imperial reunification.