2019 John Frederick Lewis Award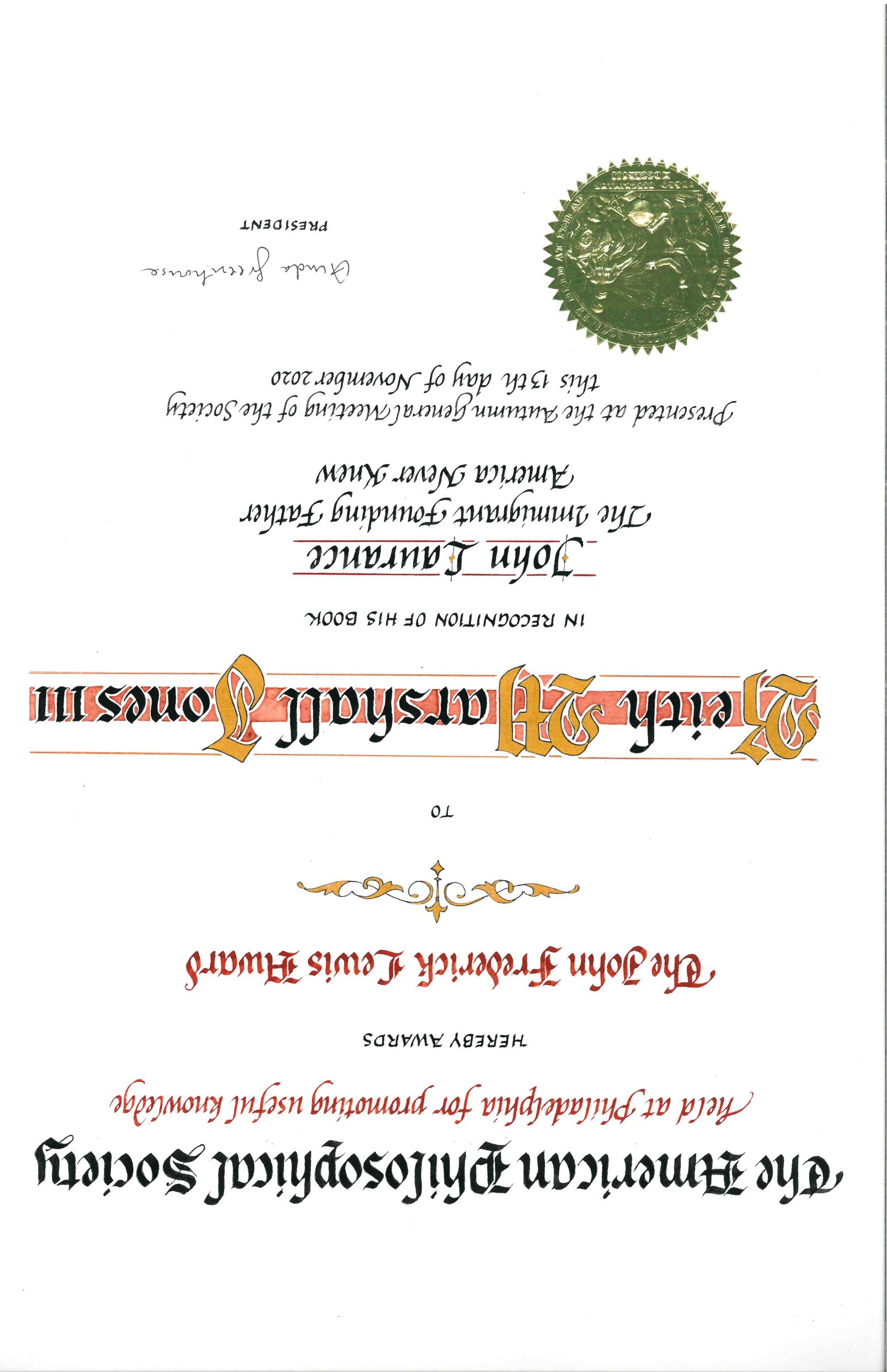 Keith Marshall Jones III

The 2019 recipient of the Society's John Frederick Lewis Award is Keith Marshall Jones III in recognition of his book John Laurance: The Immigrant Founding Father America Never Knew (Transactions of the American Philosophical Society, Volume 108, Part 2).

This is the first substantial study of a little known immigrant to the New World who collaborated with Alexander Hamilton and James Madison in the creation of the American nation. Born in 1750 in Cornwall, he forged a legal career in New York. His association with Hamilton has obscured his contributions to the War for Independence and its Federalist aftermath.  He helped Hamilton in the passage of the treasury secretary's transformative financial agenda and, together with Madison, converted the paper Constitution into the machinery of government in the vastly underappreciated First Federal Congress. This biography of John Laurance, who survived until 1810, restores important missing pieces to our nation's founding narrative and exposes the Cornish émigré's remarkable ascent into Federalist America's governing inner circle. 

Keith Marshall Jones III is an independent scholar who has written several articles and books on the American Revolution. He is a direct descendant of Supreme Court Chief Justice John Marshall. Publications include Congress As My Government (2008), the "definitive account of Marshall's military service in the War for Independence"; Framers Against the Crown (2002, 2014); and The Farms of Farmingville (2001). His article in 2017 on "John Laurance and the Role of Military Justice at Valley Forge" (Pennsylvania Magazine of History and Biography) re-introduced the forgotten immigrant New York lawyer to scholars. 

In 1935 the Society established the John Frederick Lewis Award with funds donated by his widow.  The award recognizes the best book or monograph published by the Society in a given year.  Members of the selection committee were Glen W. Bowersock (chair), Professor Emeritus of Ancient History, Institute for Advanced Study; Julia Haig Gaisser, Professor Emeritus of Latin, Eugenia Chase Guild Professor Emeritus in the Humanities, Bryn Mawr College; and Noel M. Swerdlow, Professor Emeritus of Astronomy and Astrophysics and of History, University of Chicago.