2019 Jacques Barzun Prize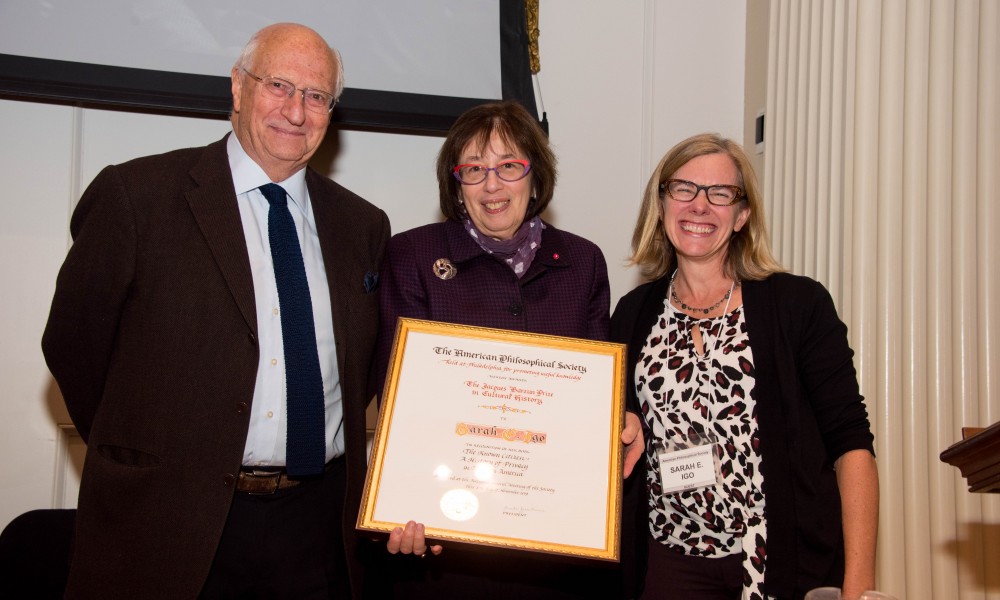 The recipient of the 2019 Jacques Barzun Prize in Cultural History is Sarah E. Igo. She was awarded the prize at the APS Autumn Meeting on November 8, 2019.

Sarah Igo's The Known Citizen: A History of Privacy in Modern America (Harvard University Press) offers a subtle, far-reaching account of a subject that is in many ways more elusive than it may seem. Privacy has had a "contentious career," as Igo says, and "a longing for public recognition" can "oscillate with a desire for obscurity, even within the same person."  "As I worked on this book I kept arriving at a paradox: privacy is everywhere in modern America and yet hardly anywhere in modern American history."
Sarah Igo's 'historical arc' reaches from the late nineteenth century, when the telegraph, the postcard, the camera and the newspaper began to make public much that had been private, to the present day, when social media and the combined interests of a nervous state and prurient audiences tempt us to think that privacy has vanished altogether. The history in question is not so much that of a concept as of America's shifting attitudes to it, the intricate details of 'what has happened to citizens' thinking about privacy'. This thinking concerns, among other things, milestones in the law, the development of a social security system, problematic research methods in the social sciences, reality television and confessional writing. A remarkable moment occurs when we are reminded that in the 1980s many Americans who could afford to do so 'privatized their very claims to privacy', living in gated communities and finding their shops and schools in an effectively segregated world. To think about privacy is to think about knowledge: who has it, who needs it, how much damage can it do, and when should it be hidden or protected? These questions are signaled by Igo's title; they come together to form what she calls 'the quandary of the known citizen'. Her eloquent recurring phrase is 'a knowing society', as in 'the new wariness attached to a knowing society', or 'a knowing society would be defined in large part by this tension between the desire to see or be seen and the wish to evade society's gaze'. "Americans in the twentieth century," Igo says, "made of privacy much more than a legal right. They made it foundational to their sense of personhood and national identity." This book, covering a wide range of cases, always thoughtful and open-minded in its interpretations of them, allows us to see how difficult it can be to know when we want to be known; and suggests that American privacy, far from vanishing, is only in the early stages of what is likely to be a long, changing career.  Sarah Igo is an associate professor of history, associate professor of political science, associate professor of sociology, associate professor of law, and director of the American Studies Program at Vanderbilt University.
The Jacques Barzun Prize in Cultural History is awarded annually to the author whose book exhibits distinguished work in American or European cultural history. Established by a former student of Jacques Barzun, the prize honors this historian and cultural critic who was elected a member of the American Philosophical Society in 1984.  The selection committee consisted of Michael Wood (chair), Charles Barnwell Straut Professor of English and Comparative Literature, Princeton University; David Hollinger, Preston Hotchkis Professor Emeritus, University of California, Berkeley; and Robert B. Pippin, Evelyn Stefansson Nef Distinguished Service Professor, Committee on Social Thought, Department of Philosophy, University of Chicago.