Catherine Dulac is the recipient of the 2018 Karl Spencer Lashley Award in recognition of her incisive studies of the molecular and circuit basis of instinctive behaviors mediated through olfactory systems in the mammalian brain. The Prize was awarded to her at the 2018 November meeting of the American Philosophical Society.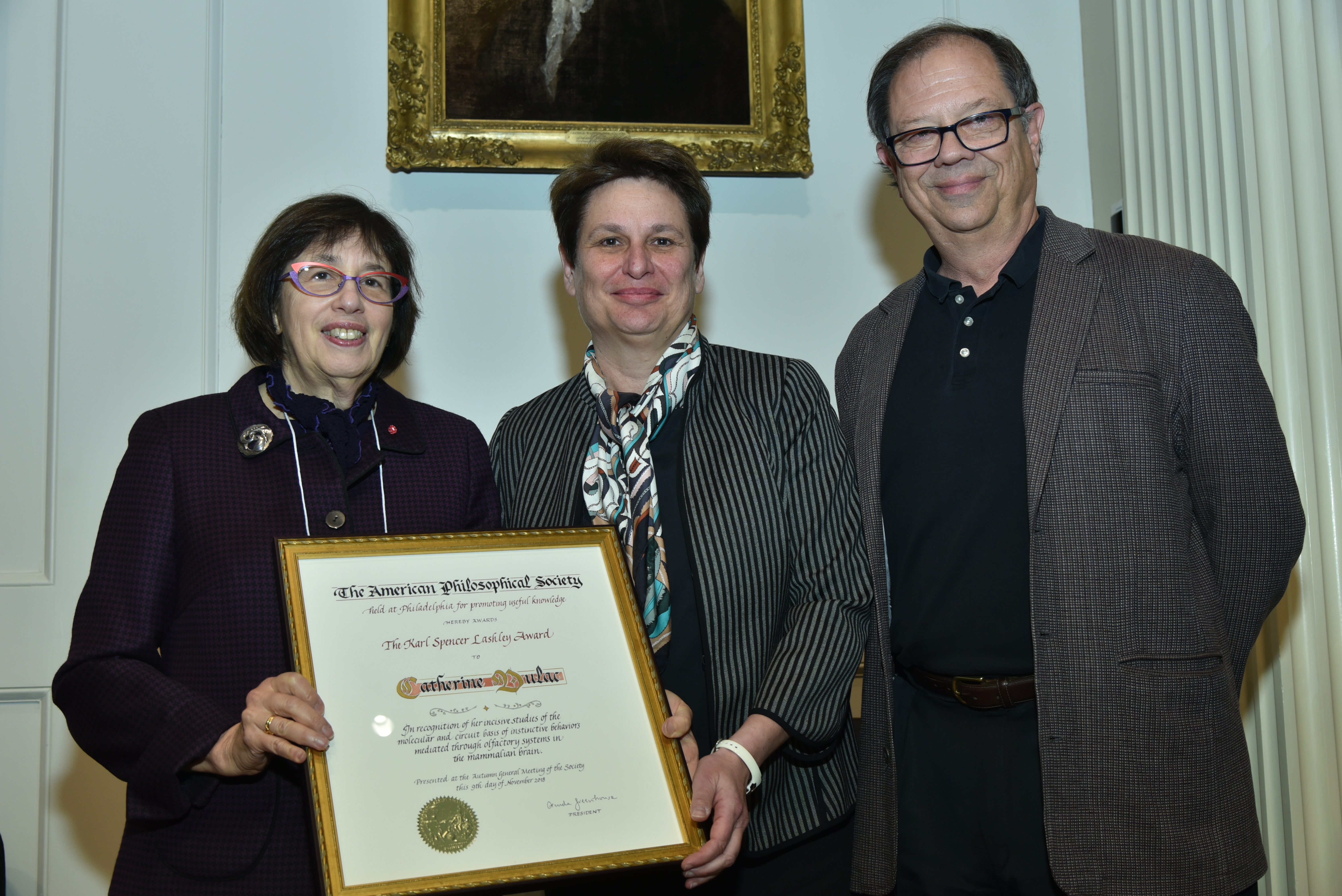 Catherine Dulac has elucidated the mechanisms by which the mammalian brain detects pheromones, and processes pheromone-related information to produce social behaviors. Pheromones are molecules that constitute an important mode of communication between members of the same species. Dulac devised single cell cDNA cloning methods for characterizing novel families of pheromone receptors in the vomerulonasal organ (VNO). These discoveries led directly to her groundbreaking work on the anatomical pathways and physiological mechanisms that mediate pheromone effects in the central brain. Dulac showed how VNO circuitry generates sex-specific behaviors in response to pheromones, even though circuits for both male- and female-specific behaviors exist in both sexes. Dulac's body of work is a brilliant example of how molecular, physiological and behavioral techniques, deployed in concert, can lead to a deep, mechanistically powerful understanding of behavior.
Dr. Dulac is Higgins Professor of Molecular and Cellular Biology and Lee and Ezpeleta Professor of Arts and Sciences at Harvard University and an Investigator for the Howard Hughes Medical Institute. She earned her Ph.D. in developmental biology from the University of Paris.
The Karl Spencer Lashley Award was established in 1957 by a gift from Dr. Lashley, a member of the Society and a distinguished neuroscientist and neuropsychologist. His entire scientific life was spent in the study of behavior and its neural basis. Dr. Lashley's famous experiments on the brain mechanisms of learning, memory and intelligence helped inaugurate the modern era of integrative neuroscience, and the Lashley Award recognizes innovative work that continues exploration in the field.
The members of the selection committee are William T. Newsome III (Chair), Harman Family Provostial Professor, Vincent V. C. Woo Director of the Stanford Neurosciences Institute, Professor of Neurobiology and, by courtesy, of Psychology, Stanford University; John E. Dowling, Gordon and Llura Gund Research Professor of Neurosciences Emeritus, Harvard University; Ann M. Graybiel, Institute Professor, Department of Brain and Cognitive Sciences, Investigator, McGovern Institute for Brain Research, Massachusetts Institute of Technology; John G. Hildebrand, Regents Professor of Neuroscience, University of Arizona; Eric Knudsen, Sewell Professor of Neurobiology Emeritus, Stanford University School of Medicine; Edvard Moser, Professor of Neuroscience, Director, Kavli Institute for Systems Neuroscience, Norwegian University of Science and Technology; and Larry R. Squire, Distinguished Professor of Psychiatry, Neurosciences, and Psychology, University of California, San Diego, Research Career Scientist, Veterans Affairs Medical Center, San Diego.