Toni Morrison was awarded the Thomas Jefferson Medal for Distinguished Achievement in the Arts, Social Sciences, or Humanities in 2018. The citation inscribed on the prize certificate reads "in recognition of a distinguished lifetime of extraordinary contributions to American letters. With a unique gift of language and unbounded imagination, Toni Morrison's highly acclaimed works of fiction and non-fiction have served as reminders of the social realities of difference in American life, while serving also as timeless meditations on the human condition. Her literary genius is celebrated throughout the world. Her appeal spans the generations."
Because Toni Morrison was unable to attend the medal presentation at the Society's November 2018 meeting, her friend Professor Farah Jasmine Griffin accepted the award on her behalf. Dr. Griffin is William B. Ransford Professor of English & Comparative Literature and African American Studies at Columbia University.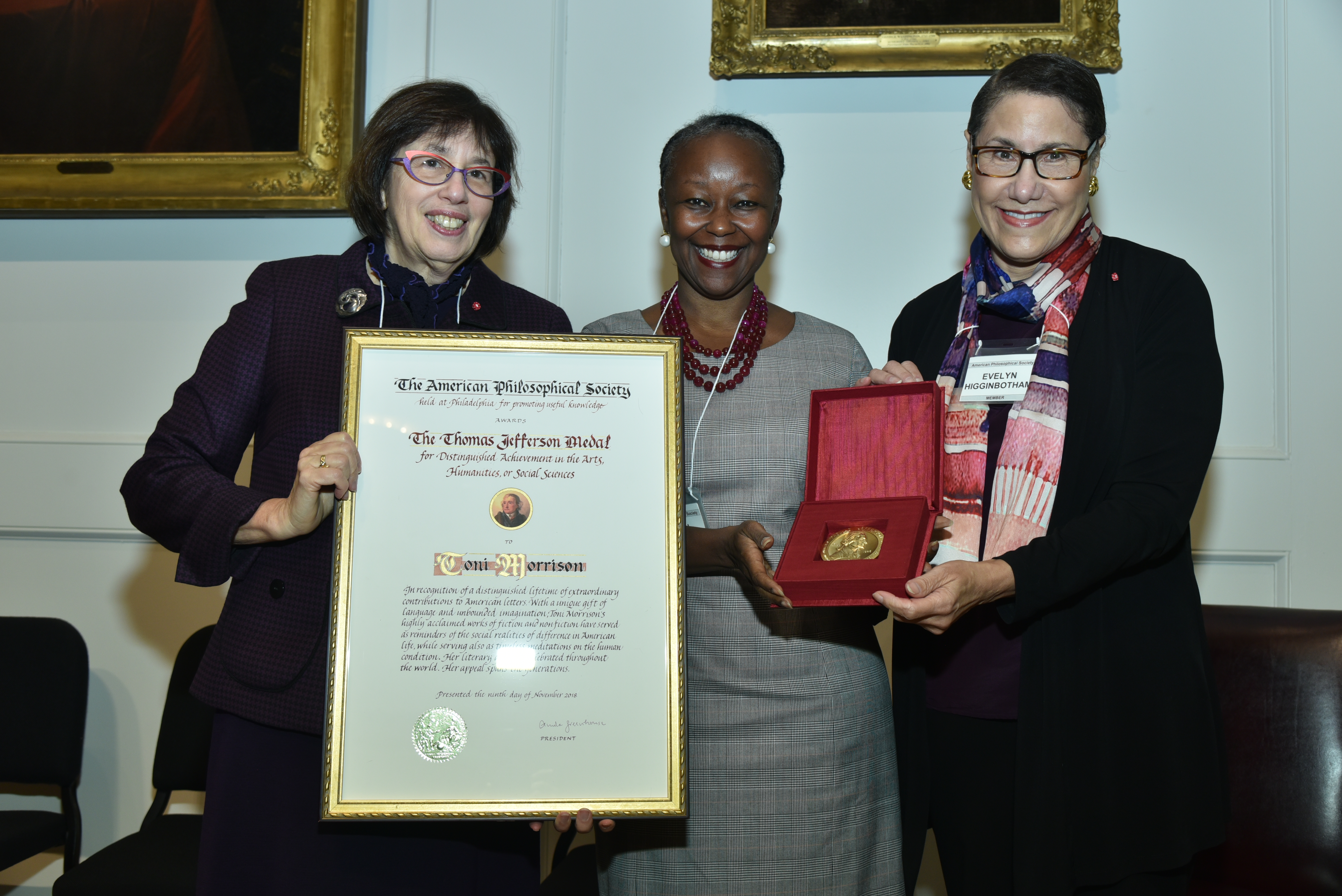 Toni Morrison's accolades include the 1993 Nobel Prize in Literature and a Presidential Medal of Freedom. Her work is widely recognized for both its literary and cultural significance. In addition to her twelve novels, she has written plays, non-fiction pieces, and children's literature. Yet above and beyond her impressive awards and honors, the narratives she has set down stand as testaments to the liberating power of reading and of storytelling. Through her writing, she has given voice and light to aspects of the American story that have long been excluded from the nation's narrative.
In 1993, the United States Congress praised the American Philosophical Society as "the oldest learned society in the United States and one of the principal scholarly and scientific bodies in the world." Congress honored the Society and its third President, Thomas Jefferson, for "devotion to learning" by authorizing the minting of the Thomas Jefferson Medal. Thomas Jefferson served as President of the American Philosophical Society at the same time that he was Vice President and then President of the United States. The medal is the Society's highest award for the arts, humanities, and social sciences.
The members of the selection committee were the Society's President Linda Greenhouse (Chair), Executive Officer Robert M. Hauser, and Council members representing Classes 3 and 4 Richard M. Shiffrin, Howard Gardner, Evelyn Brooks Higginbotham, Jeremy A. Sabloff, Christopher Jones, and Roger S. Bagnall.