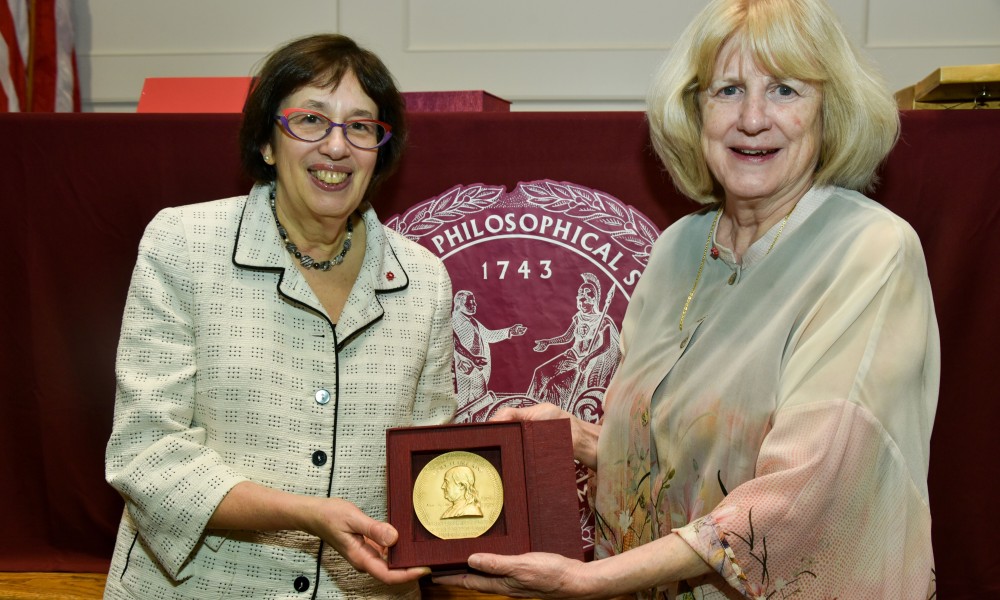 The recipient of the Society's 2018 Benjamin Franklin Medal for Distinguished Achievement in Science is Mary-Claire King, American Cancer Society Professor in the Department of Medicine and the Department of Genome Sciences at the University of Washington in Seattle.  The medal was presented on April 26, 2019 at the Society's Spring 2019 meeting. Her diverse works have included the demonstration that humans and chimpanzees are 99% genetically identical.  She also is recognized for the use of genomic sequencing to identify victims of human rights abuse in identifying children stolen from their families and illegally adopted under the military dictatorship in Argentina.  She is best known for her pioneering work in identifying a single gene, BRCA1, as a cause of inherited breast and ovarian cancer.  Her meticulous and landmark studies empowered women to be tested for deleterious genes that predispose them to breast and/or ovarian cancer and thus providing options for prophylactic surgeries or earlier and more frequent screening.  
Her exemplary research has been recognized with numerous awards, including the Brinker award from the Komen Foundation in 1999, Lasker Award in 2014, and National Medal of Science in 2015.  She was elected a member of the American Philosophical Society in 2012.  
In 1906 Congress authorized the medal to commemorate the 200th anniversary of Franklin's birth.  President Roosevelt directed that the 1st one go to the Republic of France.  50 copies were given to the American Philosophical Society for its use.  The Society has chosen to be to be parsimonious in their distribution.  For three decades only one was given and that was to Marie Curie in 1921.  Since 1937 they have been awarded more liberally but still quite selectively, for major contributions in the sciences, humanities or public service.  It was decided to present the medal as part of the celebration of the American Philosophical Society's 275th anniversary 
The members of the selection committee are APS president Linda Greenhouse (chair), Council members representing Classes 1 and 2 Warren M. Washington, Stephen J. Benkovic, Lawrence H. Einhorn, Philip D. Gingerich, Nina G. Jablonski, and executive officer Robert M. Hauser.