2018 Benjamin Franklin Medal
Bryan Stevenson received the Benjamin Franklin Medal for Distinguished Public Service at the 2018 November Meeting of the American Philosophical Society. The citation inscribed on the prize certificate reads "in recognition of his tireless advocacy on behalf of the most vulnerable in our society, from death row inmates to minors sentenced to life without parole; his pathbreaking efforts to combat racism and economic inequality in the criminal justice system as the director of the Equal Justice Initiative; his commitment to advancing the cause of truth and reconciliation by carefully documenting this nation's history of racial terror and lynching as founder of the National Memorial for Peace and Justice; and his dedication to educating and inspiring a new generation of lawyers as a Professor of Law at New York University. The American Philosophical Society honors Bryan Stevenson, a drum major for justice and mercy."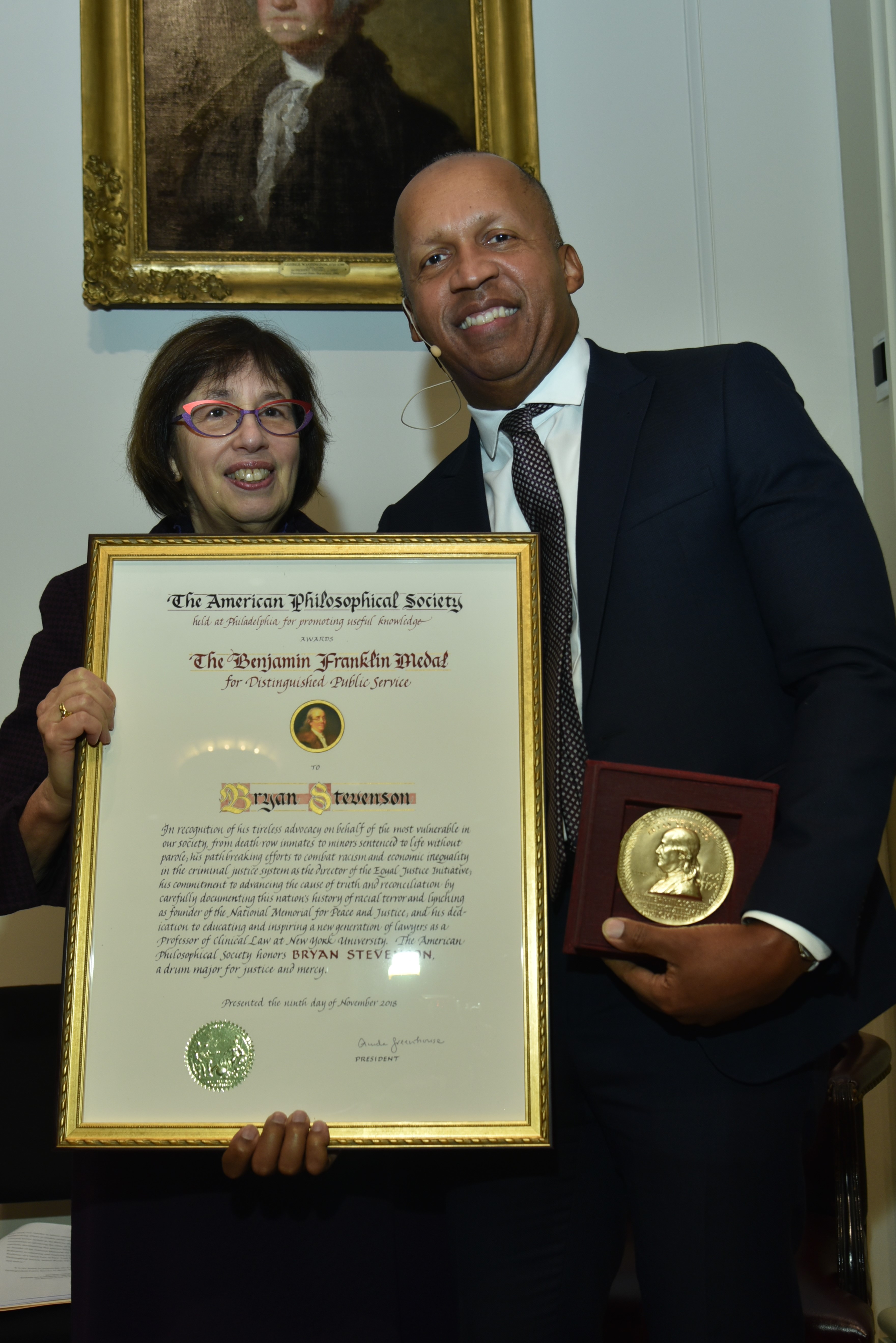 Under his leadership, the Equal Justice Initiative has achieved major legal successes including winning reversals, relief, or release for over 125 wrongly condemned prisoners on death row. His many awards include a MacArthur Foundation Fellowship and the ACLU National Medal of Liberty. Mr. Stevenson's book Just Mercy: From Enslavement to Mass Incarceration (2014) won the Andrew Carnegie Medal for Excellence in Nonfiction in 2015 and was named one of Time magazine's 10 best books nonfiction books of 2014. He has led a life of advocacy, promoting awareness of injustices, while also remaining near to and supportive of those whose lives have been most deeply impacted by such injustices.
In 1906, the United States Congress authorized a commemorative medal to mark the 200th anniversary of the birth of Benjamin Franklin. The first medal was presented "under the direction of the President of the United States" to the Republic of France. In recognition of its founder, subsequent medals were given to the American Philosophical Society for its use. In 1987, the Benjamin Franklin Medal for Distinguished Public Service was established to honor exceptional contributions to the general welfare. In 1993, when the Thomas Jefferson Medal was authorized by Congress, the Benjamin Franklin Medal was designated for recognition of distinguished achievement in the sciences. The medal is the Society's highest award for distinguished public service and the sciences.
The selection committee members were the Society's President Linda Greenhouse, Vice Presidents Elizabeth Cropper, Rowena Matthews, and Warren Washington, Council members representing Class 5 Patricia Graham, David Tatel, and Werner Gundersheimer, and Executive Officer Robert M. Hauser.