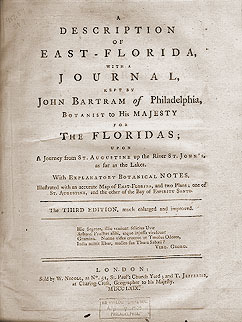 Title page of William Stork's
Description of East Florida
For the APS, the value of William Stork's Description of East-Florida lies as much in containing the first appearance in print of the journal of John Bartram (1699-1777) as it does in the quality of Stork's prose. Born in Marple, Pennsylvania, John Bartram was raised a Quaker, and while he dissented from the Friends' pacifism and theology, he was deeply influenced by their world view and used Quaker religious connections to further his career. Possessed of a very limited formal education that featured only the tiniest smattering of Latin and inadequate attention to the rules of grammar, John so prospered as a farmer that before he had turned forty, he was able to devote significant attention to his true love: natural history. Under the patronage of James Logan and later Benjamin Franklin and Peter Collinson, Bartram pieced together a rudimentary technical knowledge of botany and during the late 1730s and early 1740s, began on a succession of botanizing tours of the middle colonies, beginning with a trip up the Schuylkill River, and later venturing into the Blue Ridge Mountains, along the James, Susquehanna, Hudson, and Mohawk Rivers, and into the Catskills. A journal kept while accompanying Conrad Weiser on an expedition to treat with the Iroquois nations at Onondaga, New York, became Bartram's first publication, Observations on the Inhabitants, Climate, Soil, Rivers, Productions, Animals, and Other Matters Worthy of Notice (London : Printed for J. Whiston and B. White, 1751).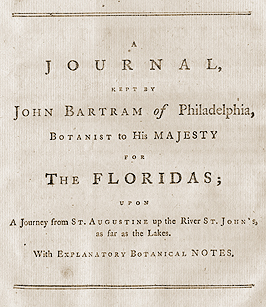 Start of John Bartram's journal
(click to read entries for December 24-25, 1765)
First and foremost, Bartram was a supplier of raw materials to the scientific elite of America and Europe, and he was very successful at it. By 1740, he had attracted international note for his skill in procuring native plants for the gentlemen of Europe. As a scientist and merchant, horticulturist and supplier of natural objects, Bartram assembled a lucrative client base, including his patron, Peter Collinson, the Dukes of Bedford, Norfolk, and Richmond and a smattering of Earls and lesser nobility. At his
gardens in Kingsessing
(now south Philadelphia), he grew dozens of species of trees, shrubs, and other plants collected on his travels, and experimented with hybridization and the selection of cultivars to meet, and sometimes create, a demand abroad for exotic plants. Interested equally in the ornamental, medical, and agricultural uses of plants, Bartram established the finest botanic garden in all America during the colonial period.