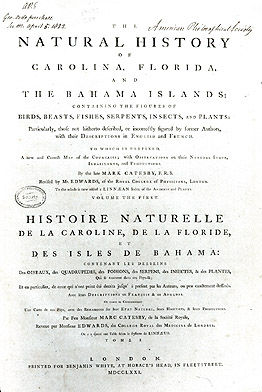 Title page of Catesby's Natural History of Carolina,
1771 edition
Born in Sudbury, England, Mark Catesby (1683-1749) felt an "early Inclination... to search after Plants, and other productions of Nature," hindered only by his distance from "the centre of all Science," London. Despite these impediments, Catesby acquired a sound scientific education that kindled a "passionate Desire" to see the native flora and fauna of the exotic American colonies first hand. In April, 1712, his opportunity came. Invited to join his sister, Elizabeth, and her husband Dr. William Cocke in Northumberland, Virginia, Catesby was able to spend seven years in the colonies, taking part in expeditions to the Blue Ridge Mountains, to Bermuda and Jamaica, collecting and sketching as he went. At several points during his travels, Catesby shipped a small number of specimens to England and into the hands of interested naturalists, most notably Samuel Dale and the gardener, Thomas Fairchild. His decision to do so altered the course of his life.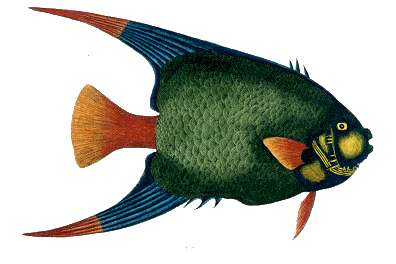 Tropical fish
Through Dale, Catesby gained the attention of William Sherard, later benefactor of the first chair in botany at Oxford, and of Sir Hans Sloane, whose collections became the nucleus of the British Museum. The encouragement of these giants of patronage and science enabled the budding naturalist to transform his return to England in 1719 into an opportunity to secure financial support for a second American voyage. Within three years he was enabled to chart a course for South Carolina, where he traversed the populated and "unpopulated" reaches of the colonies as far south as the Savannah River. Employing Indian guides, Catesby ventured equally far inland, commenting that for "the Hospitality and Assistance of these friends Indians, I am most indebted, for I not only subsisted on what they shot, but their first Care was to erect a bark hut, at the approach of rain, to keep me and my Cargo from wet." In 1725, he ventured further afield, accepting the invitation of Governor Charles Phinney of the Bahamas to visit those islands and add to his collections. Finally, in 1726, he returned home.