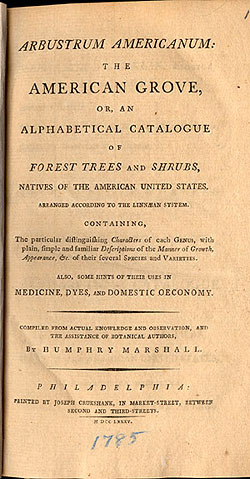 Title page of Marshall's Arbustrum
(click to read Marshall's introduction)
A younger cousin of
John Bartram's
, Humphry Marshall (1722-1801) was another of the remarkable circle of Quaker botanists from Chester County, Pa., who helped shape American botanical practice during the 18th and early 19th centuries. His most enduring work, the Arbustrum Americanum was fittingly published only two years after the Peace of Paris had formalized American independence, and is recognized as the first botanical treatise written by a native American on American plants, produced in America.
The rudimentary education that Marshall received ceased altogether when he was apprenticed to a stone mason at the age of 12. Like Bartram, he displayed an avid interest in natural history from a very early age, and with his cousin's encouragement and advice, developed considerable skill as a practical botanist as early as the 1740s, and like Bartram, he soon came to the notice of the Anglo-American scientific community as a collector and supplier of native plant and animal specimens. During the middle years of the 18th century, Marshall's renown grew steadily. His circle of correspondents and clients swelled, often expanding along the connections provided by family and fellow Friends - the personal and religious acting in the service of the commercial and scientific - and his avocation of providing plants to interested parties soon became a vocation. Eventually, Marshall's correspondents came to include some of the leading botanists in England, America, and the Continent, including Peter Collinson, John Fothergill, Sir Joseph Banks, John Coakley Lettsom, Benjamin Franklin, George Logan, Timothy Pickering, John Dickinson, Caspar Wistar, Hector St. Jean de Crèvecoeur, and Johannes Fredericus Gronovius.
In 1764, success had encouraged Marshall to construct a conservatory on his farm for the culture of rare plants -- probably the first such structure in Chester County -- and with the inheritance he received upon the death of his father in 1767, he was finally able to turn all of his energies to science. On April 8th of the next year, Marshall was elected a corresponding member of the American Society, one of the organizations that merged to form the modern American Philosophical Society, and although he never attended a meeting, he remained in regular communication with the Society until his death. By 1772, Marshall's estate had become a full fledged export-oriented botanical garden stocked with herbaceous and arboreal representatives of the local flora and as many exotic plants as could be obtained from other parts of the nation and Europe.
Although the trans-Atlantic traffic in plants inevitably suffered during the American Revolution, it did not altogether cease, and relatively speaking, Marshall's business escaped unscathed. A member of West Bradford Meeting, he was too good a Friend to be active in the revolutionary cause, but he was nevertheless in general sympathy with independence, and was a fervent supporter of the non-importation movement and the later movement supporting domestic manufactures.