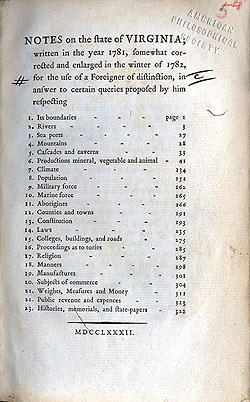 Title page of first (private) edition of Notes on the State of Virginia
(click to read about beasts)
No American natural history was more influential during the 18th century than Thomas Jefferson's (1743-1826) Notes on the State of Virginia, though it is, as intended, far more than a simple natural history. At once a description of the land and people of the state and a theoretical discourse on historical, natural, and political systems, the Notes represents Jefferson's conflicted views on the present and future of the new American nation, an integral mix of hope and anxiety.
Jefferson's Notes began inauspiciously during the late autumn, 1780, when François de Barbé Marbois, the secretary of the French legation to the United States, sent a set of standard queries to American officials to elicit information about the thirteen states. Queries like Marbois' were a common means for colonial administrators to familiarize themselves with the historical, political, demographic, and economic situations of their constituencies -- a sort of bureaucratic approach to information gathering -- and Marbois may have intended to write his own study of the states. But when the queries he had sent to Joseph Jones, a congressman from Virginia, were forwarded to Jefferson, the response was anything but common.
John Vaughan's note written inside the cover,
stating "gift of the author"
From a certain perspective, the timing of Marbois' request could not have been worse. On the very day that he confirmed receipt of the queries, Jefferson's wife, Martha, nearly died giving birth to her fifth child, and less than a month later, Virginia was invaded by British forces under the command of Benedict Arnold. As governor, Jefferson was forced to improvise the state's limited defenses to blunt an unusually savage campaign, and the results were not encouraging. The defining moment came on June 4, 1781, when troops under Banastre Tarleton entered Charlottesville and nearly captured Jefferson at home. In his memoir, Tarleton sarcastically observed that Jefferson escaped having "discovered the British dragoons from his house, which stands on the point of a mountain, before they could approach him, and he provided for his personal liberty by a precipitate retreat." To add insult to injury, eight days later, the House of Delegates launched an investigation into whether his conduct constituted negligence of duty.