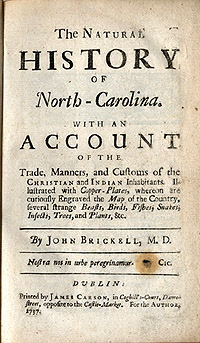 Title page of Brickell's, Natural History
A native of Ireland, John Brickell (1710-1745) accompanied the future provincial governor, George Burrington, to Edenton, North Carolina in 1724, an event that served as the wellspring for his enduring reputation as a promoter and observer of the colonial southeast. Yet for all of Brickell's energies on behalf of the colonies, he spent fewer than six years there, returning to England in 1731.
Like his predecessor, John Lawson, Brickell was eager to explore the interior reaches of colony to evaluate its economic potential, so much of which was wrapped up in consideration of the colony's natural productions. As a member of a party of ten, he explored the interior of the province as far west as Tennessee, summarizing his observations, hopes, and expectations in a work of popular science, The Natural History of North Carolina. Drawing heavily upon Lawson's History of Carolina -- often plagiarizing by modern standards -- Brickell's Natural History is distinguished by its close attention to the health conditions of the colony and to the medical practices of its Indian residents. Not quite as acute an observer as Lawson, Brickell's efforts to describe the disease environment of the early colonial Southeast and the tenor of his descriptions of Indians nevertheless made his work valuable to historians.