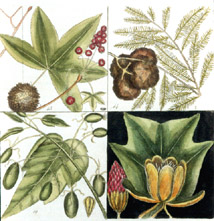 Leaves of Liquidambar and other trees
Nineteen years after his death in 1767, Mark Catesby's New World experiences were tapped one more time in the service of a lavishly illustrated work of American natural history. Published in large quarto with 63 figures on 17 hand-colored copper plate engravings, the Hortus Britanno-Americanus was devoted to American botany, including 85 hand-colored plates drawn and engraved by Catesby.
Catesby's focus on utility, broadly speaking, is reflected throughout the Hortus. The sassafras, he noted, "is very well known as a sweetener of the blood" and is used in Virginia to treat remittent fevers, while Liquidambar, the sweetgum, produced "good timber" for wainscotting and joinery, while its "fragrant gum" was prized by the Indians as "preservative of the teeth." Of Smilax, the genus of sarsparilla, Catesby recorded that "the inhabitants of Carolina make a diet-drink, attributing great virtues to it in cleansing the blood," while he was of the opinion that Anona, the custard apple or sweetsop, partook of a rank, fetid odor, "nor is the fruit relished but by very few, except negroes."