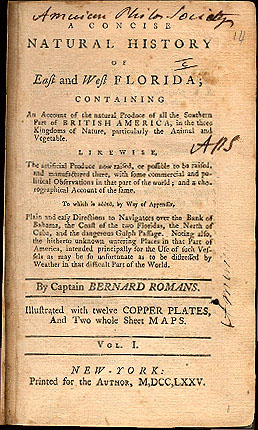 Title page of Romans's, Natural History of Florida
Born in the Netherlands and raised in England, Bernard Romans (ca.1720-ca.1784) came to America in about 1757 as a junior surveyor in the British service, becoming one of the pioneering cartographers of the American southeast. Assigned to duty in Saint Augustine, East Florida, before 1760, Romans soon began to rise through the ranks of the British engineering establishment. In 1766, he was appointed deputy surveyor in Georgia, and in the following year, was made deputy surveyor for the entire Southern District, reporting to the German-born Gerard de Brahm.
Like many military officers in the hinterlands, Romans sought to enrich himself through the acquisition of land and slaves, but he never neglected his surveying duties. He made the first maps of Pensacola Harbor, Tampa Bay, and Mobile Bay, and along with David Tait and George Gauld (who prowled the coastal regions), he was responsible for mapping most of the interior of West Florida between 1770 and 1772.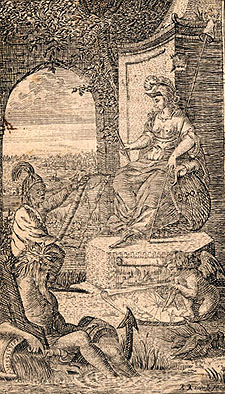 Frontispiece of Romans's, Natural History of Florida
Romans' maps abound in details about the productivity of the soil, the locations of Indian towns and villages, European settlements, and the flora and fauna. As he prepared them, he may already have had in mind the prospect of producing an accompanying volume on colonial natural history. The British civil and military establishment prized
Romans' maps and charts
for their accuracy, and they demonstrated their support in the clearest way possible by the standards of the day: financially. The Governor of West Florida recommended that Romans receive a pension to keep him in the south, and in 1773, Whitehall rewarded him with a pension of £50 in recognition of "his care and skill in the collection of rare and useful products in physics and botany."