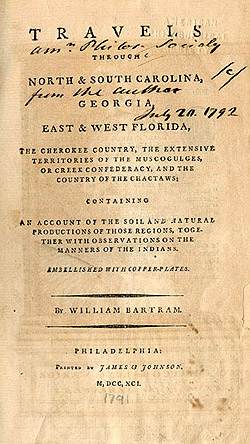 Title page of Bartram's Travels
William (1739-1823), the fifth son of the botanist,
John Bartram
, followed his father into the field, both literally and figuratively. Even while receiving the rigorous formal education that his father desired but lacked, William's heart was set on the study of nature. By his mid 20s, he was his father's regular companion forays into the hinterland to collect plants and animals for their European clientele, and his artistic talent and scientific training made him invaluable as a visual interpreter of nature.
In 1761, William shucked an apprenticeship in Philadelphia to join his uncle William in business on the Cape Fear River, North Carolina. Although failing to thrive as a merchant - in his father's words "Everything goes wrong with him there" -- William was perfectly situated to assist when his father undertook an ambitious scientific tour of East Florida in 1765-1766. The experience was beneficial for William in several ways, most importantly in attracting the support of the English Quaker scientist, John Fothergill, who offered William £50 per annum, plus bonuses, to collect unusual specimens. With patronage in place, Bartram set out in April, 1773, on his own four year odyssey across the southeast, wandering wherever opportunity and inclination combined.
Bartram was omnivorous in his scientific interests, collecting information as he traveled the byways between Savannah and Charleston on everything from botany to birds, and coal to climate. His artistic skills were put to good use, making hundreds of sketches of birds, plants, and animals, but it is his prose that makes the Travels memorable. Although he apparently did not set out with publication in mind, his father had urged William to keep a careful journal of events, if for no other reason than as a scientific record, and with the continued encouragement of his friends, this became the basis for a book in 1791. William's high-toned education prepared him well for the task, his distinctive literary style pairing exacting scientific observation with florid prose. The Travels is characterized by romantic flights effusing over the glories of nature, and abundant asides, in which Bartram sketches a vision of the world in which all life is bound by emotion and mind.
Bartram's sketch of the Great Alachua Swamp, 1765

It was now after noon; I approached a charming vale, amidst sublimely high forests, awful shades! darkness gathers around, far distant thunder rolls over the trembling hills; the black clouds with august majesty and power, moves slowly forwards, shading regions of towering hills, and threatening all the destructions of a thunderstorm; all around is now still as death, not a whisper is heard, but a total inactivity and silence seems to pervade the earth; the birds afraid to utter a chirrup, and in low tremulous voices take leave of each other, seeking covert and safety; every insect is silenced, and nothing heard but the roaring of the approaching hurricane; the mighty cloud now expands its sable wings, extending from North to South, and is driven irresistibly on by the tumultuous winds, spreading his livid wings around the gloomy concave, armed with terrors of thunder and fiery shafts of lightning; now the lofty forests bend low beneath its fury, their limbs and wavy boughs are tossed about and catch hold of each other; the mountains tremble and seem to reel about, and the ancient hills to be shaken to their foundations: the furious storm sweeps along, smoaking through the vale and over the resounding hills; the face of the earth is obscured by the deluge descending from the firmament, and I am deafened by the din of thunder; the tempestuous scene damps my spirits, and my horse sinks under me at the tremendous peals, as I hasten for the plain.