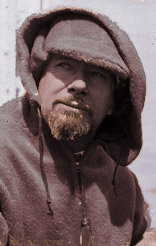 Sir Hubert Wilkins
Before his daring polar expedition in the
Nautilus
, Sir Hubert Wilkins had gained fame as an adventurer and explorer. Born on October 31, 1888, he lived on his family's sheep station until 1903 when left to attend the Adelaide School of Mines, where he studied general engineering, adding photography and cinematography on the side. In 1908, he left Australia as a stowaway, beginning his life as an adventurer.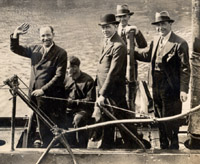 Wilkins waves, as the Nautilus arrives in Queenstown, Ireland
Wilkins joined his first polar expedition in 1913 when he was appointment as photographer to Vilhjalmur Stefansson's Canadian Arctic Expedition. After serving in the Australian Flying Corps from 1916 to 1919 during the First World War, he set out to advance his own plans for polar exploration. After his plans to establish a polar weather station was rejected, Wilkins was signed on as second-in-command of J. L. Cope's expedition to the Graham Land area in Antarctica in 1920-1921, and followed up by serving as a naturalist on Sir Ernest Shackleton's
Quest
expedition. After the lack of funding prevented mounting his own Antarctic expedition, Wilkins returned to the Arctic, where he carried out several pioneering exploration flights between 1928 and 1930. For his endeavors in arctic aviation, he was knighted in 1928. The next year he married the Australian actress Suzanne Bennett, and it was during his honeymoon in 1930 that he and Lincoln Ellsworth concocted a plan to take a submarine under the pole.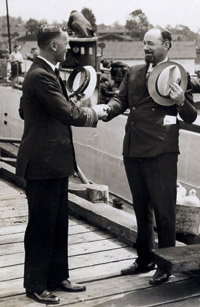 Capt. Wilson Brown, Hubert Wilkins, and S. Danehower
Following the
Nautilus
expedition, Wilkins had hoped to undertake another submarine expedition to the North Pole with a better submarine, but he never managed to assemble the funds. He was not deterred from polar exploration, however, teaming up with his friend Ellsworth on four expeditions to Antarctica. Between 1937 and 1938, he assisted in the search for the Soviet pilot Sigismund Levanevsky who had been lost over the Arctic Ocean. At the outbreak of World War II, Wilkins became involved with several Allied missions in the United States concerning aircraft manufacturing, and later worked for the Office of Strategic Services and as Arctic adviser to the United States Quartermaster General. Following the war, Wilkins served with the U.S. Navy's Office of Scientific Research from 1946-1947, and then as an adviser to the U.S. Weather Bureau. The last position Sir Hubert held was as geographer to the research and development command of the Arctic Institute of North America, to which he was appointed in 1953.
Sir Hubert Wilkins died suddenly in his hotel room in Framingham, Massachusetts, on November 30, 1958. In accordance with his wishes, his ashes were scattered near the North Pole by the nuclear submarine U.S.S. Skate.