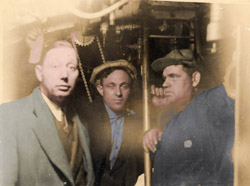 Crew members in the engine room of the Nautilus
Text and research by J. J. Ahern for the American Philosophical Society Library (© 2000). Small versions of selected images have been cropped and digitally colorized and are linked to unretouched scans of the complete image. Large images range in size from 100-220 kb; please be patient with lengthy download times on slower connections.
Layout and design by Manuscripts Department. Optimized for Netscape.