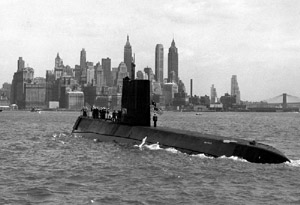 The nuclear Nautilus
After Wilkins's failed attempt to subnavigate the North Pole, it was almost thirty years before the feat was successfully accomplished. After the end of World War II and the intensification of the Cold War, the changing political and strategic climate led the United States Navy to take an even stronger interest in polar operations, soliciting Wilkins to write an account of his expedition in 1947.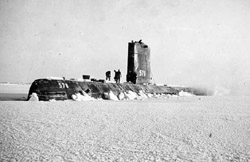 The Skate surfacing through ice
Along with the inherent difficulties imposed by cold and ice, a major limitation confronting arctic submarines was that they were powered by diesel/electric engines, which required regular resurfacing in order to recharge the batteries. In 1954, all this changed with the launch of the first nuclear powered submarine, aptly named the U.S.S.
Nautilus
(SSN-571). The ability of nuclear submarines to stay submerged was limited only by the needs of the crew. On August 3, 1958, the new
Nautilus
became the first ship to reach the North Pole, sailing from the Bering Straits to Norway on a course identical to the one planned by Wilkins. Less then a year later, on March 17, 1959, the U.S.S.
Skate
(SSN-578) became the first submarine to surface at the pole. During this
Skate's
ascent, the crew carried out Sir Hubert Wilkins's last wish: to have his ashes scattered at the North Pole.