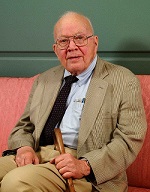 The American Philosophical Society welcomes gifts through its Planned Giving Program. Over the years—dating back to the 18th century—the APS has been the recipient of bequests and other planned gifts in support of its mission of "promoting useful knowledge."
The APS recognizes donors of planned gifts through the Richard A. F. Penrose, Jr. Association. Dr. Penrose, a Member of the Society for 26 years, bequeathed nearly $4 million to the APS in 1931. Dr. Penrose's legacy highlights a tradition of generosity that dates to the Society's earliest days.
The APS invites you to explore the options for making such contributions, which can be tailored to your financial priorities. Although many planned gifts are "win-win" situations for donors and charities, each type of gift has its own rules and implications for charitable deductions, estate taxes, etc., which should be thoroughly explored to ensure that they are compatible with your financial and/or estate planning. For a full description of each planned gift, please visit this page.
If you have already included the APS in your estate plans, or if you would like more information on bequests and other planned gifts, such as those that can provide an income stream for the donor and/or a spouse, please contact Linda Jacobs at 215-440-3434 or ljacobs@amphilsoc.org.