Papers 1830s-1860s. ca. 5000 items (7 ln. ft.).
(B K132)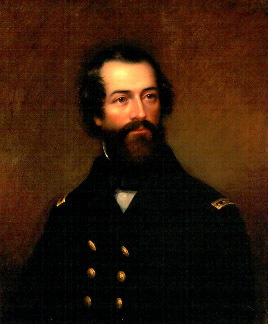 Elisha Kent Kane,
by James Reid Lambdin, 1857
The diverse Kane Papers the arctic explorer's correspondence, sketches of arctic and other scenes (there are many sketches scattered throughout the numerous bound volumes), notebooks of polar exploration, medical notebooks, journals of trips to North Carolina, the Philippines, Africa, the Near East, Egypt, Mexico, logbooks, and lectures and lecture notes on medicine, geology, mineralogy, geometry, etc.
Material concerning Kane's arctic explorations is particularly well represented through his notes, copies of journal entries, drafts of unpublished and published material, lists of materials and books, and bills and receipts. The correspondence is concentrated in the 1840s and 1850s when he began his worldwide travels, and reflects his interest in arctic exploration as well as his search for Sir John Franklin. There is considerable correspondence with Margaret Fox and with others relating to Kane's controversial relationship with her. Among the correspondents are:
Spencer F. Baird
Henry Brooks
Samuel Colt
Sophia Cracroft
Peter Force
Lady Jane Franklin
Horace Greeley
Cornelius Grinnell
Henry Grinnell
Thomas Harris
Joseph Henry
John K. Kane
Mrs. Jane D. L. Kane
Robert P. Kane
Thomas L. Kane
John P. Kennedy
William H. Weaver
Table of contents (20 pp.).
Presented by Mrs. Joseph C. Aub, Dr. Oliver Cope, Thomas Pym Cope, and Mrs. Thomas P. Hazard, 1967
Journal, 1853-1855. Film. 1 reel.
(Film 1244)
Letters, 1853-1957. Film. 1 reel (20 items).
(F.uum16)
Letters from E. K. and his father, John K. Kane, to John P. Kennedy, Secretary of the Navy. From originals in the Kennedy Papers, Peabody Institute Library, Baltimore, Maryland.
Presented by George W. Corner, 1971