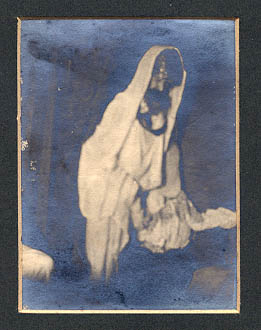 Eugène Rochas Papers, APS
A focused investigation fueled by this cynicism exposed Mumler as a fraud two years later when his "spirits" were recognized as living Bostonians. Even though he was denounced in Boston as a fraud he believed that, "the innumerable hosts of living, intelligent beings who had passed to a higher life were with me, to sustain and assist in fighting the ignorance, bigotry and blindness of the human race in this their earthly condition." Unable to work in Boston again, Mumler moved to New York to reestablished his spirit photography business but there he was quickly arrested and charged with public fraud, larceny, and obtaining money under false pretenses.
Mumler defended himself by stressing that he used ordinary methods to obtain the photographs and that many individuals had examined his methods. His central argument was that many of his customers had recognized their dear departed loved ones in his pictures. The prosecution responded that the spirit forms were so vague that Mumler's customers saw what they believed or wished they would see. Neither side was able to prove its case strongly. Mumler's defense was solely reliant on proving the existence of spirits and ultimately the case was dismissed for lack of evidence in 1869. Although Mumler was not found guilty when he returned to Boston, he was unable to successfully work again.